Biography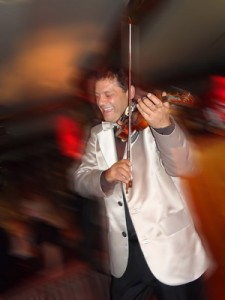 Joseph Tallosi, better known by his stage name, Sukaro, was born into a musical Romany family in Budapest, Hungary. At age nine, already well acquainted with Gypsy-style violin playing, an instrument traditionally favoured by several generations of his male relatives, he began his classical music studies.
Travelling around the world with the internationally famous Rajkó Gypsy Youth Orchestra in his teens he enchanted audiences in dozens of countries.
During the past twenty five years, Sukaro has been a cherished member of the Australian music scene, performing in hundreds of concerts and providing a special highlight to countless private parties and corporate functions.
Based in Melbourne, Victoria he plays heart-rending versions of traditional csardas, Vienna waltz or contemporary Gypsy swing. Sukaro also delights concert goers and restaurant guests from Raheen to the Docklands with swing jazz, continental music and unique covers of American popular songs from the 1940s and 1950s.
Sukaro's most recent CDs featuring an immense stylistic variety, rich sometimes almost oriental ornamentation and virtuoso violin solos were well received by Australian music lovers. Whether it is a traditional Gypsy tune, a swing favourite from the 1930s or an unforgettable Italian song, Sukaro pours his wandering spirit into every single melody.
Sukaro is available for bookings for trendy restaurants, corporate events, weddings and private parties. He often offers tuition for promising young musicians.